Following Efficient20 test with a farmer in United Kingdom near from Ludlow, who purchased a John Deere 6910 135HP, with ploughing equipment.
They made 3 tests during ploughing:
Results:
From 1st test to 2nd one, he reduced is fuel consumption around 5%
From 2nd test to 3rd one, he reduced is fuel consumption around 30%
In total, the fuel consumption could be reduced drastically, around 34% !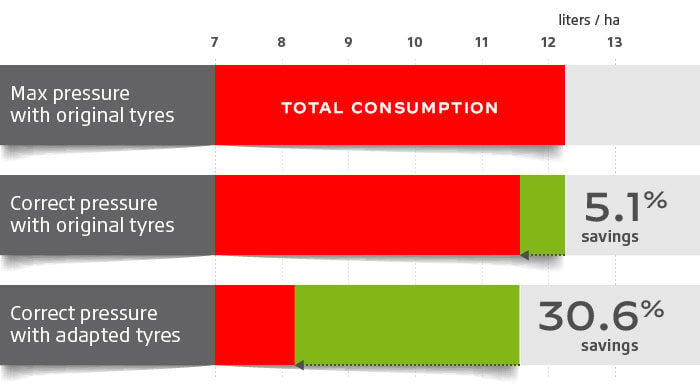 Why do we have these pitfalls?
When buying a tractor, we focus on the machine and the main options, assuming that the rest goes without saying. We rely on common sense. But for tires, it's not so simple.
A tyre must be adapted to the load carried, the time spent on road and on field, farm activities,.. Tyre must be conform with your expectations: soil preservation, road holding, comfort, ...
So first of all, take time analyzing your needs, but how can you do it?
Which criteria are requested based on my needs? Which data I need to collect before making my tractor order?
Depending of your farm activities and time spending on road and on field, "right" tyre must be completely different. As an example:
If you spend 90% on field, searching for soil care, the best choice will be a tyre with VF or IF technology.
On the contrary, I you spend a large part of your time on road, the tyre must support load at higher speed, need to have specific component to increase tire life and request sidewall able to absorb efficiently vibration and damages road, to secure transport in all conditions. In this case, you could choose a premium tyre in standard technology, from 70 series to Extra-large series. Etc.


Other key point to remain:
always think about tractor + implement + mass.
For tyre choice, you must take in account your full equipment!
Without being an expert on tractor tyre, how can you identify key information during tractor specification process?
Tyre technology
Tyre series
Tyre brand
The functioning of the specifications: it costs for sure, but less than a complete set of tires and rims to buy back!
---
To learn more and boost your farm's profits, Bridgestone-Agriculture is offering you a free, detailed eBook that explains the essential role your agricultural tyres play in your productivity.