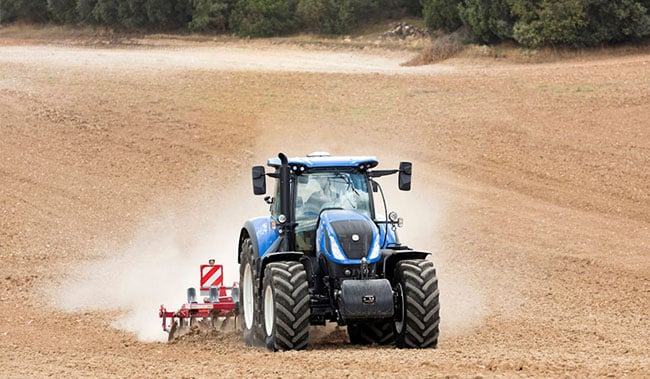 Everybody uses their tractors for a variety of jobs, but every one of you would use the same tractor differently depending on your farm, the type of crops you plant, your geographical location, the distances you travel, and the climate in your region.
So how do you choose the right tractor tyre for you?
Here are some tips towards ensuring you pick the best tyre solution that's the most durable and therefore the most cost-effective over the long term.
Tractors are used differently from farm to farm. Some of us have plots that are very far away from each other or far from the cooperative and require a lot of time on the road, while others may have a livestock operation and are very active in the farmyard, while others still might spend almost all of their time in the fields.
In addition to the tractor's own characteristics, choosing the right tyre is an easy way to adapt your vehicle to the type of work you carry out the most.
Below are three simple case studies that demonstrate how the perfect tyre choice can improve productivity and working efficiency:
1. You mostly use your tractor in the fields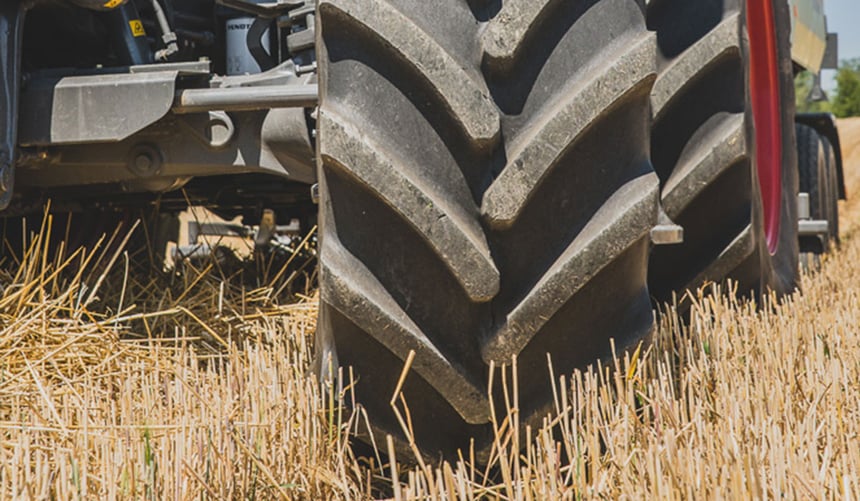 For work in the field, the ideal is to have a very flexible tyre to preserve the soil as much as possible while also benefiting from maximum traction.
VF tyres can meet these needs perfectly, as they have the following advantages:
1. They can bear heavier loads
VF tyres are able to bear loads up to 40% heavier pcompared to standard tyres, and all this at the same speeds and distances travelled. They are therefore perfect for pulling heavy tools in large farms.
2. They don't need pressure adjustments
A sizeable advantage that means you will never again have problems caused by incorrect tyre pressure and will never need to change tyre pressure from one type of terrain to another.. This revolution will save time and guarantee comfort for busy farmers who might not always know the right pressure they need for driving on roads, rough terrain or loose soil.
In general, the pressure of a VF casing can drop to less than 0.8 bar, whilst a standard agricultural tyre cannot go below 1.2 bar.
3. They protect your soil
When it comes to soil preservation, nothing beats a VF tyre. With their capacity for very low pressures, they limit soil compaction, ensure a more evenly-distributed footprint, and reduce slip.
4. They guarantee better productivity
Low pressure, larger footprint, heavier loads... VF agricultural tyres tick all the boxes to guarantee better productivity. Test results and user feedback have shown that this technology makes it possible to treat more than one hectare in a single day – the perfect yield gain for farmers looking to expand their operations.
5. VF agricultural tyres save fuel
For those of you who'd feel reluctant to invest in tyres that are 15-20% more expensive than normal, here's the argument to convince you: VF tyres use 0.7 litres of diesel per hectare less than standard agricultural tyres. This translates to considerable savings for larger farms.
2. You use your tractor for a bit of everything – half in the field, half on the farm, plus transport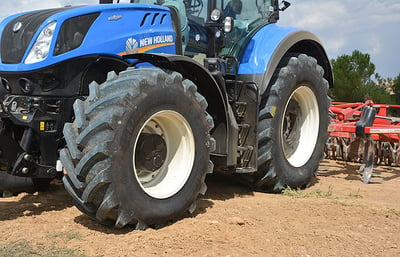 Versatile tyres
A technological and high-performance VX Tractor range
You often use your tractor in the farmyard to work inside and around buildings, but you also spend an equal amount of time putting it to work in the fields.
In short, your tractor is the central pillar for your job, and to have to truly versatile vehicle you need tyres that are as suited to the farmyard as they are to the fields.
Bridgestone launched a new tyre range, VX-Tractor. This high-end yet affordable range has been designed especially for farmers who use their tractors for a wide variety of work.
The most versatile tractor tyre on the market today
Pushing the boundaries of technology and performance, the VX-Tractor range is manufactured from a new rubber compound that is much more wear-resistant than other models currently on the market. In addition, the production process substitutes some of the mineral oil used with vegetable oil, which is kinder to the environment.
The new casing design is the result of new technology that allows inflation pressures from 0.6 to 2.4 bar, meaning the tyre can adapt to all types of usage while still bearing the heaviest loads.
These technological advances extend the tyre's service life, enable them to work longer, bear larger loads, and represent an important stride towards a more sustainable future for the industry.
» Designed for performance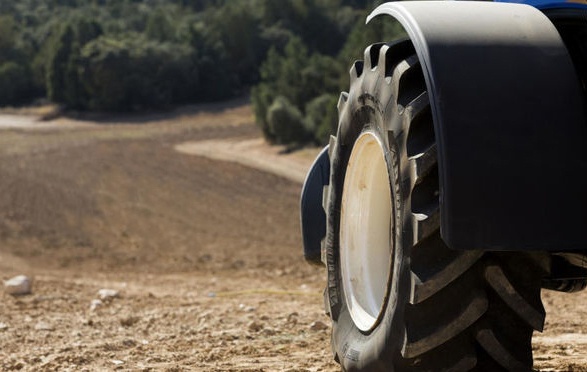 The first focal point for our designers was the tyre's performance.
This tyre has a very high hauling capacity, and its technical design based on Bridgestone's most advanced models offers phenomenal grip in all conditions.
Whether in the field, on the road, under pressure, in slippery conditions, on slopes or when transporting heavy loads, it has been proven to have a much lower degree of slip than its main competitors.
The casing has been designed to minimise internal stresses within the tyre's structure, allowing it to drive at high speeds even with heavy loads and pressures of up to 2.4 bar.
» Designed for durability
Our engineers also focused on improving the tyre's life span, especially when regularly used on roads.
The upshot of this is tyre lugs that are longer, wider, and with up to 20% more rubber than those of its direct competitors. The VX is perfectly adapted to deal with substantial road use.
The increased rubber content offers a much greater tread thickness than other brands.
The tread also benefits from six layers of premium rubber, which increase tyre resistance, minimise the effects of erosion, abrasion and use on hard soils, and help safeguard against potential damage and punctures.
The surface of the sidewall has also been reinforced, further reducing the tyre's vulnerability to punctures.
Every aspect of the design is more robust, ensuring long-term performance and wear resistance.
A complete range
This super-versatile range is available with its 85, 70, 65 and XL series in 57 sizes, with more than 34 different front/rear combinations.
3. You use your tractor on very hard surfaces (farmyards, roads, forest clearing, etc.)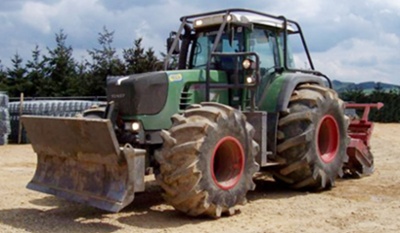 Robust tyres
Puncture-resistant Forestry tyres
If you rarely use your tractor to work in the fields, but need it to multi-task without you having to worry about the strength of your tyres or the type of terrain you will be driving on, you should opt for forestry tyres.
The forestry tyre stands up very well to the test in the field, and is a tyre solution with a more robust design reinforced by steel belts for better resistance. Its highly resistant multi-layer textile structure is extremely durable and offers excellent puncture resistance.
For example, forest clearance and soil scarification require tyres with excellent traction and grip, which is why the tread lugs must form an angle as close to 23° as possible, which is the ideal position for traction. The casing and overall tyre quality must ensure the sidewalls can withstand use on any type of terrain (hard soil, stumps, branches, sharp rocks...), and the tread must have excellent self-cleaning properties to remain effective.
This type of tyre, with its reinforced steel structure, high-rubber lugs, protective beads and nylon casing, offers improved sidewall resistance to cuts and impacts that's well above average:
+9% sidewall strength
+20% rubber between the casing and stud base
+20% rubber on the sidewalls
This makes these tyres an excellent choice for brute strength jobs or when working on difficult, hard or sharp terrain with flint or branches.
---
If you'd like to learn more and boost your farm's profits, Bridgestone Agriculture is offering you a free, detailed eBook that explains the essential role your agricultural tyres play in your productivity. Click the button below to download your free guide: