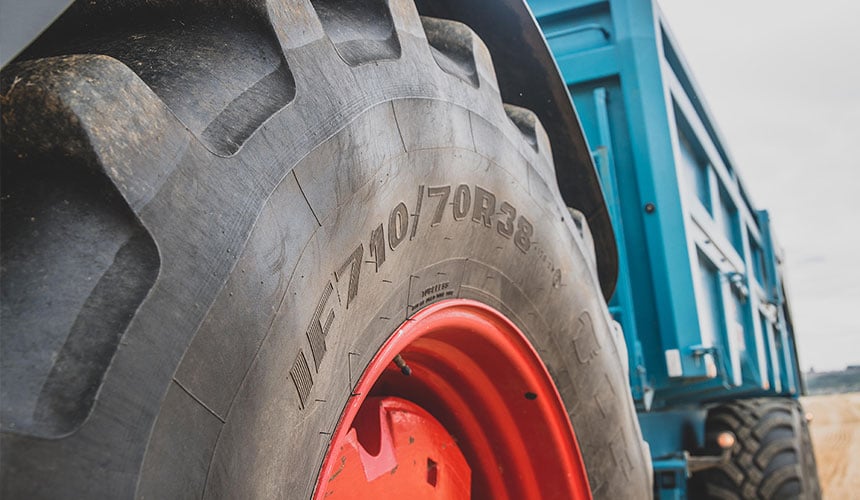 Farmers these days need to know the difference between standard tyres (with conventional radial casings), tyres with IF (increased flexion) casings, and tyres with VF (very high flexion) casings. Here's a short summary to explain the differences between these three categories.
Standard tyres dominate the market...
Standard tyres are, for the time being, the most commonly seen tyre in dealerships and on farms. To get the best performance out of them, farmers must follow several precautions for use, especially in terms of regulating the internal pressure. In fact, adapting the inflation pressure is necessary depending on the axle load, driving speed and type of work (with or without tractive force).
The pressure may require adjustment several times a day depending on the work: driving on the road between two nearby plots, longer journeys, working in the field with a rear-mounted tool, working without a tool, etc.
---
*ETRTO: European Tyre and Rim Technical Organisation
...But are rarely used in the optimum configuration
With a conventional casing, the inflation pressure needs to be adjusted very often.
One available solution to combat this inconvenience is to equip the tractor with a remote inflation system, which is effective but is still rarely adopted. What's more common is that farmers, not wanting to waste time constantly adjusting their tyre pressure, simply adjust it for the demanding conditions – driving on the road. The upshot of this is that the tyre hardly ever works in its ideal configuration, and productivity suffers as a result.
IF and VF tyres raise the bar and offer real benefits
As their full names indicate, IF and VF tyres offer increased flexibility. More importantly, these new technologies are also able to bear heavier loads. At an equal pressure, an IF tyre can bear 20% more weight and a VF tyre can bear 40% more weight.
Driving test – the Firestone Maxi Traction IF tyre and the Bridgestone VT-Tractor VF tyre
While IF technology has already made it possible to substantially reduce the pressure exerted on the ground, VF technology takes things even further. The other main advantage of VF tyres resides in their complete versatility: you no longer need to get down off your tractor to adjust the tyre pressure for different uses. This saves an enormous amount of time, while also offering unparalleled comfort.
More sophisticated materials and reinforced areas
From the outside, the farmer won't notice any glaring visual differences between the three types of tyre. The shape will be the same, and the number of lugs will only differ based on the tyre's dimensions. However, it's what's on the inside that counts. With IF and VF tyres, the materials used in their manufacture are more sophisticated, and sensitive areas, such as the beads, are strengthened. This results in a higher quality tyre.
Mixing standard, IF and VF tyres: a bad good idea
If a farmer has the mistaken belief that it'd be good idea to mix standard tyres with VF, he or she would quickly find out that they were very wrong.
» Why?
The deflection capacity, i.e. the tyre's ability to modify trajectory, is vastly higher when VF technology is in play, resulting in a slightly different rolling circumference. Mixing different technologies together is therefore a huge technical error that could have serious safety risks. Our advice is that you always buy a full set of four tyres from the same range.
The risks and dangers linked with using unsuitable tractor tyres are bigger than they may first appear, and may even cause the tractor to overturn.
---
To learn more about the risks related to agricultural tyres, download the free white paper below: The essential role of tyres in keeping you saf